Screening and discussion of The Rebellious Life of Mrs. Rosa Parks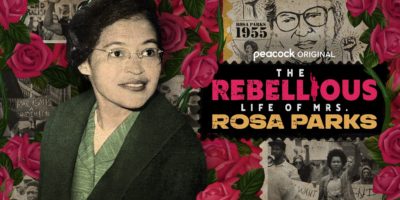 Speakers
Yoruba Richen

CUNY Newmark School of Journalism


Yoruba Richen is an award-winning documentary filmmaker whose work has been featured on multiple outlets, including Netflix, MSNBC, FX/Hulu, HBO, and PBS. Her most recent film The Rebellious Life of Mrs Rosa Parks premiered at Tribeca Film Festival and won a Peabody Award. It is currently streaming on Peacock. Other recent work includes the Emmy-nominated films American Reckoning (Frontline), How It Feels to Be Free (American Masters), The Sit In: Harry Belafonte Hosts the Tonight Show (Peacock), and Green Book: Guide to Freedom (Smithsonian Channel).


She directed an episode of the award-winning series Black and Missing for HBO and High on the Hog for Netflix. Her film, The Killing of Breonna Taylor won an NAACP Image Award and is streaming on HULU. Her previous films, The New Black and Promised Land won multiple festival awards before airing on PBS's Independent Lens and P.O.V. Yoruba is a past Guggenheim and Fulbright fellow and she won the Creative Promise Award at Tribeca All Access. She was a Sundance Producers Fellow and Women's Fellow and is a recipient of the Chicken & Egg Breakthrough Filmmaker's Award. Yoruba is the founding director of the Documentary Program at the Craig Newmark Graduate School of Journalism at CUNY.

Jeanne Theoharis

Brooklyn College CUNY


Jeanne Theoharis is Distinguished Professor of Political Science at Brooklyn College of the City University of New York. Her book, The Rebellious Life of Mrs. Rosa Parks, won a 2014 NAACP Image Award. She is the author of A More Beautiful and Terrible History: The Uses and Misuses of Civil Rights History. She and Komozi Woodard have edited several collections of scholarship on the Black Freedom Struggle, including Freedom North: Black Freedom Struggles Outside of the South, 1940-1980, Groundwork: Local Black Freedom Movements in America, Want to Start A Revolution?: Radical Women in the Black Freedom Struggle with Dayo Gore, and The Strange Careers of the Jim Crow North: Segregation and Struggle Outside of the South with Brian Purnell.

Theoharis is the author of numerous books and articles on the civil rights and Black Power movements, the politics of race and education, social welfare and civil rights in post-9/11 America. Her work has appeared in the New York Times, the Washington Post, MSNBC, The Nation, Slate, Salon, the Intercept, and the Chronicle of Higher Education.

Her most recent book, written with Brandy Colbert, is The Rebellious Life of Mrs. Rosa Parks: Young Readers Edition.